Photo Gallery

Ben Chapman the original gill man from THE CREATURE FROM THE BLACK LAGOON poses with Dr. Shock

---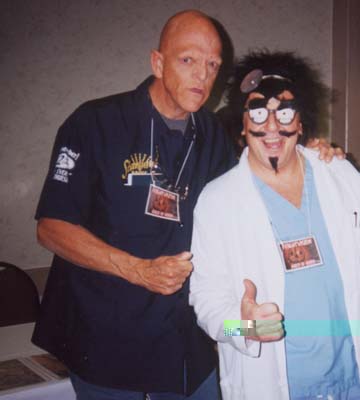 Dr. Shock and Michael Barryman from THE HILLS HAVE EYES give "Doctor Shock's Tales of Terror" two thumbs up
---

Dr. Shock gets into some girl talk with The Evil Dead Girls
---
Dr. Shock hangs with Ted V. Mikels director of THE CORPSE GRINDERS and ASTRO ZOMBIE
---
Dr. Shock poses with Herschell Gordon Lewis director of BLOOD FEAST
---

Dr. Shock poses with the crew from Troma Films at thje Dr. Mor B.S. booth
p.s. The Mor B.S crew holds a special place in our heart. (Its that place where all the fat sticks over the years!) Just joshin kiddies we love ya!
---
Dr. Shock takes time out to chat with Sceam Queen Brinke Stevens
(I think the ole Doctor is trying to fix Shrunken Head up with her )
---
Dr. Shock talks FX with Make-Up FX Master Tom Savini
Mr. Savini: "I made this candy bar outta an axe and three gallons of fake blood and some pig intestines."
Dr Shock: "Ummm...hey Tom...You gonna eat that? ...Can I have a bite?"
---
Dr.Shock with the always happy David Carradine from the hit TV series KUNG-FU
The Good Doctor went on to say to Mr. Carradine. that he starred in his own series called Dung-Fu
David was upset to say the least.
---
Herschell Gordon Lewis does his impersonation of Dr. Shock
Mr. Lewis: "Hey Couch Tomatos...where's Petey pilot?....Huh! Go Flipper!"
---
Lloyd Kauffman of Troma Films tells Dr. Shock that he deserves an oscar.
---
Dr. Shock trying to replace Nurse Gurney with Scream Queen Jassi Cotton
---

Dr. Shock at FrightVision 2000 with Bill May
---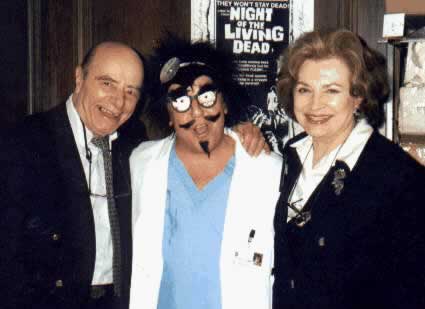 Dr. Shock hangin with the Coopers
---
Dr. Shock with WitchBlade...but does it really matter what her name is?
Photo credit: (THE BLADE/LORI KING)
---
For more cool pics check out
our Production stills page
© 2002
creature